Classification of Products in Alterra
Overview
It is possible to concurrently maintain multiple classification systems in Alterra. These classification systems can be obtained and imported from external organisations (e.g.: eClass, ETIM, ProfiClass or UNSPSC). Alternatively, own classification systems can be created. Products can be assigned to several classifications. The structure and properties of a classification system can be flexibly configured.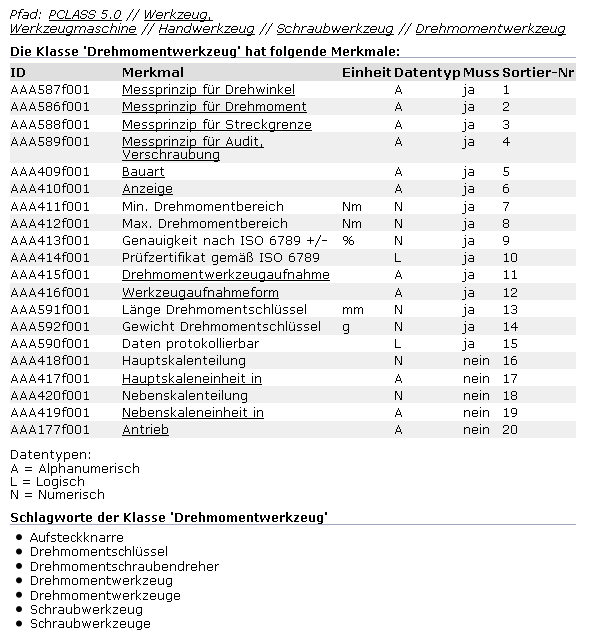 Class with attributes – shown above: ProfiClass "torque tools"

If all data of a classification system are available, a product can be assigned to a classification class and its attributes. The task of the PIM system is to provide a user interface that can be used to efficiently classify and assign attributes (i.e. properties) to products.
Increased efficiency through mass assignment
Products are to be assigned to classes and the attributes corresponding to the class shall be displayed and maintained as input or selection fields.

Alterra supports the user with automated functions such as the mass assignment of a class to several products or by storing product attributes for multiple products in a single batch run ("recursive storage of values").
Automatic transfer of values ​​between classifications
In cases where it is switched from an older to a newer version of a classification system, or where an own classification system should be supplemented by an external system, the automatic transfer of values ​​between the existing and the new system is desirable and should be supported by the PIM system with automated processes (batch run or similar).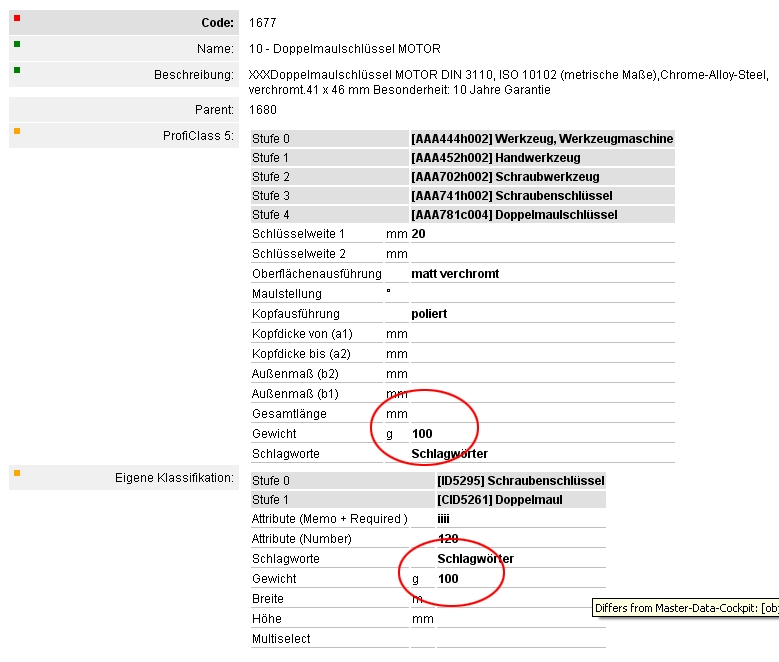 Transfer of values ​​between two classification systems – shown above: the value for "weight".
Supported classification systems
Alterra supports the use of various public classification systems. Public classification systems include (amongst others):
eClass
ETIM
ProfiClass
UNSPSC
Depending on the target channel in which the products should be distributed, it is often recommended to use a combination of an own internal classification system and an external, public system.
Export of classificated products
To export fully classified product data, the formats BMEcat 1.2 and BMEcat 2005 (synonym: BMEcat 2.0) are recommended. BMEcat 2005 supports the output of product information including several classifications and multilingual attributes. As this format is the output format offered by Alterra's standard version, it is the export format of choice when product data should to be transferred from Alterra to other systems.