Cable manufacturer bda connectivity tackles complex product attributes with Alterra PIM


When it comes to processing product data (Product Information Management), a large product range with an immense number of technical features is always a big challenge for companies: How should the large number of products and properties be neatly managed and maintained? How should the multitude of information be presented in a clear and customer-oriented way on the website?
These and similar questions were also asked by bda connectivity, a cable manufacturer based in Hessen / Germany.
Bda connectivity GmbH in Asslar manufactures special cables and EMC measurement systems for customers in the electrical and electronics industry, for telecommunications network operators, electrical wholesalers, the automotive supply industry, medical technology and science. A new addition is a product line of high-quality indoor antennas and passive components for the telecommunications market.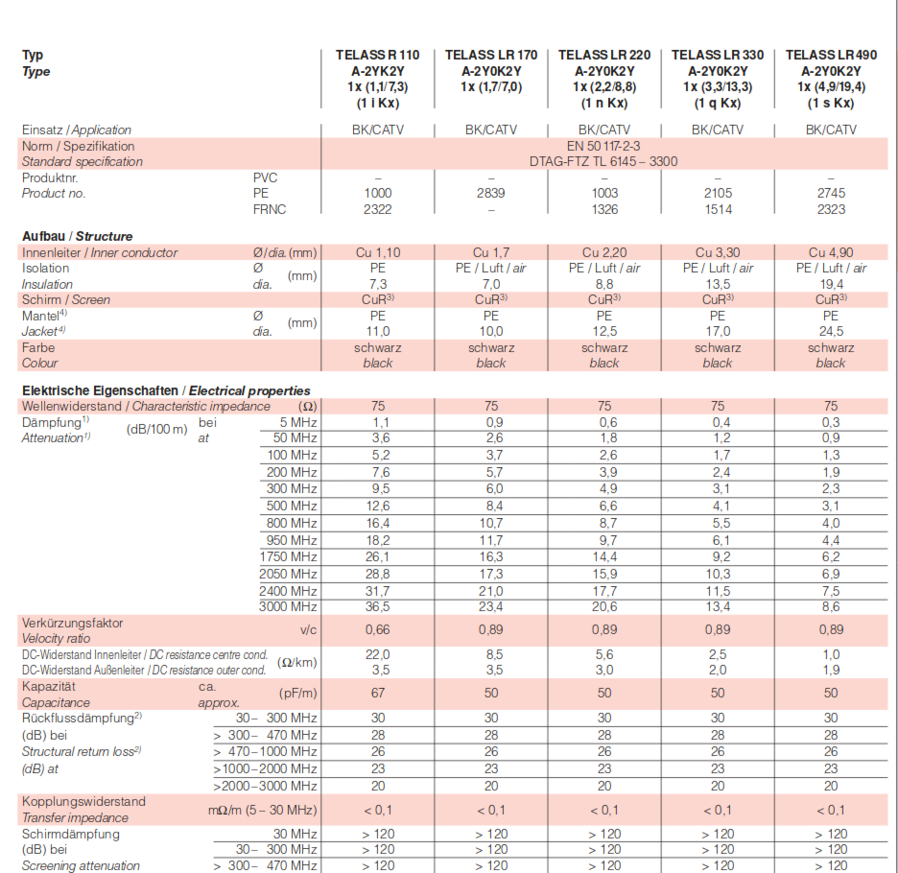 Initial situation: documents instead of web content
So far, bda connectivity presented all products on their website in the form of multi-page documents, which customers had to scroll through page by page to find the desired information. An inconvenient and outdated way to present products.
For data management, product data was stored in various systems and files (e.g., in the ERP system "Baan"). Some of the product data had not even been stored in a structured form. When changes were made to the database, it proved difficult to update all data sources used for sales and marketing completely and simultaneously. For this reason, product data for marketing purposes was selected manually in the past.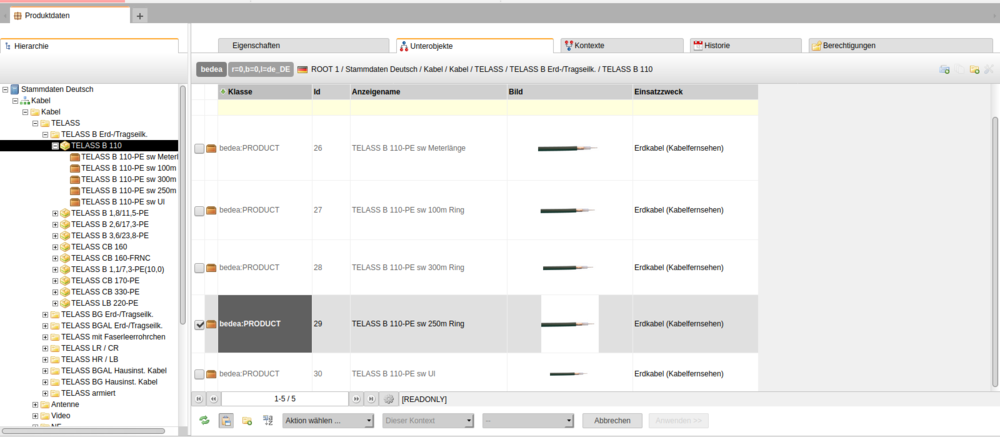 Optimization of data for new marketing channels
bda connectivity recognized that an improved appearance of the products could be achieved with the support of a powerful PIM system. bda connectivity was therefore looking for a provider that could offer both a highly configurable PIM system and a customer-friendly web catalog.
Finally, in the course of an extensive selection process, Alterra PIM prevailed over competitor products in the market as the solution that matches bda connectivity's needs best. Sepia was able to demonstrate that Alterra PIM is one of the few systems that is fully capable of meeting bda connectivity's high demands, especially with regard to the maintenance and output of complex product properties.
The goal: better product data for all channels
The goal of publishing better product data was to be achieved at bda connectivity by implementing the following functions and processes:
Consolidation of the product data from source systems

Data Quality Management (DQM) especially for product attributes

Multi-channel management for internal and external product data with approvals

Complex product filter as information basis for sales and customers

Dynamic lists to compare technical data

Automated, high-quality display of product information
Customize it: implementation as required
During the implementation of the project, product data that could previously be found in different systems were merged. bda connectivity then manually entered data records that had never existed anywhere before. For others, Sepia created an interface to the ERP system and performed imports from existing lists.
Sepia created all products and their variants in the PIM system and provided them with the different field types for product properties. bda connectivity created the properties (attributes), grouped them thematically and had them displayed on individual tabs to make everything clearer.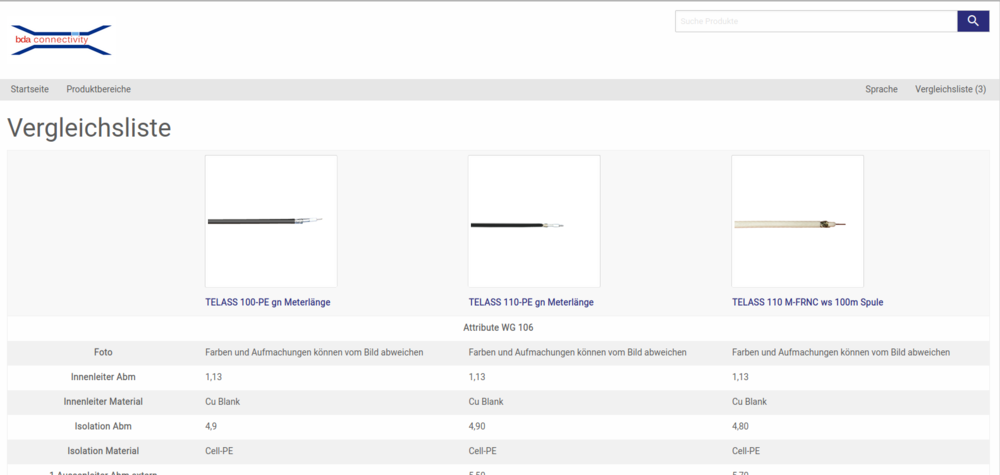 Another important requirement was to control the web view from within the PIM system: Which products and features are shown to which user group and which are not? A clear separation of internal and external views had to be ensured. To solve this, bda connectivity are now able to activate/deactivate every single product for the different user groups in the web catalog that is run as a module in Alterra (module: Alterra WebCatalog/WebShop). "With this functionality we can, for instance, create new products in PIM at an early stage and publish them internally, while we only activate them for the publicly accessible web catalog at a later stage," says Udo Schön, Project Manager at bda connectivity.
Customer-friendly: easy to find and compare
With the help of the PIM system and the web catalog for product data, the extensive technical product portfolio is now much more accessible for customers. bda connectivity now have a web catalog for their website, where customers can find all products clearly sorted. To find particular products faster, the content can be filtered by any product. Sepia adapted the access to the filter functions for technical attributes according to bda connectivity's wishes; the Facet Search (also known under the term "Elastic Search") already available in the system could be used.
Furthermore, Alterra WebCatalog's standard comparison function for technical attributes that allows to display the technical properties of several products in a clearly structured table is a frequently used feature.
"The Web2Print feature is also very practical for our customers, which means that any product from the catalog can be downloaded or printed out as a pdf data sheet in addition to its HTML view," says bda connectivity project manager Udo Schön.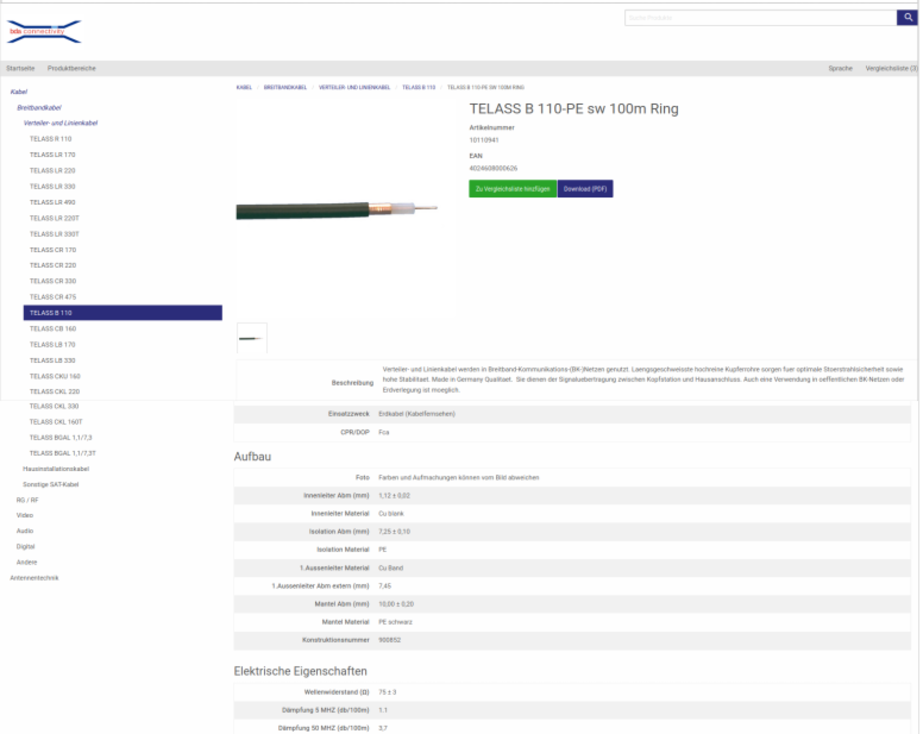 Efficient: one PIM system controls two web catalogs
The necessity of making the product portfolio clear and, above all, accessible to everyone was not only recognized with respect to the customer side. It has also become necessary to optimize access to the data for internal users at bda connectivity.
A second catalog is therefore created for internal use by sales and office staff. This catalog will contain even more extensive product data and information and be tailored to the extended information needs of employees.
Both product information portals are fed from the same data source. Which data is displayed exclusively on the intranet and which is also displayed on the website can be defined from within Alterra PIM and adapted at any time.