PIM and Product Configuration for Thermokon Sensor Technology

Thermokon is a manufacturer sensor technology for heating systems and building automation. The company has built up its technological expertise in more than 25 years of experience in the market. Thermokon is headquartered in Germany with subsidiaries in Austria, Sweden and China, and exports its products to over 80 countries. Thermokon sensors are used in public buildings, business premises and households.
Initial situation
Thermokon's product range is characterized by the fact that components can be installed in several variants in a single device. As a result, the potential number of products to be distributed is so high that it is virtually impossible to display all variations of these devices in a product catalog. Thermokon therefore limit the size of their product catalog by displaying only common, frequently purchased versions of their products.
Before they began to use Alterra PIM, product information was manually maintained in printed documents. A direct connection between a database or ERP system and the product catalog did not exist. Thermokon's website featured only general information on product types with little technical data and no product variants.

Special features of Thermokon's products:
large number of attributes
medium number of components
components in various versions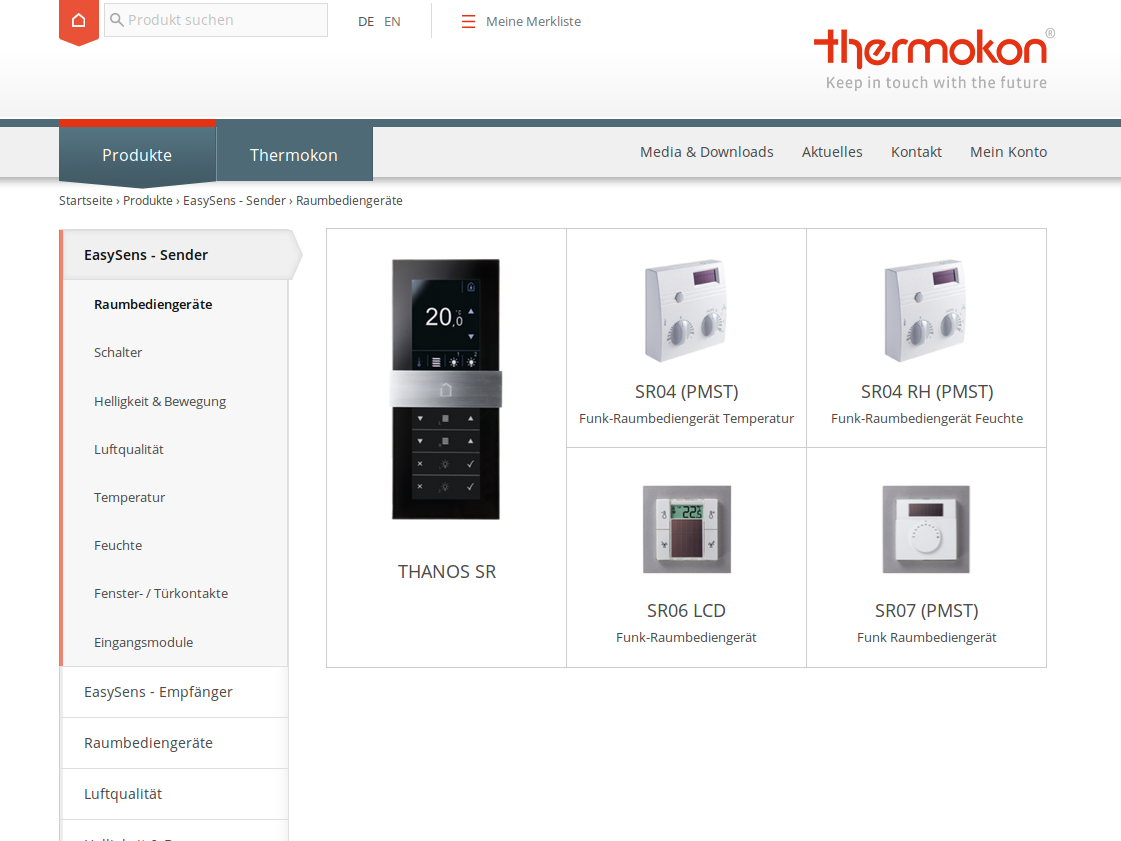 Problems
As part of the launch of Alterra PIM we first had to find an answer to the main question: Would it be advisable to use a product configurator to generate the product portfolio?
This is what the basic scenario looked like: a product consists of various types of terminals/connectors, sensors with different sensitivities and dimensions, and – depending on the application – the product can also be delivered with different housings. This means that the same product is delivered in different configurations depending on the customer's requirements.

Here is an example to illustrate the problem:
A product consists of any combination of available components. A few numbers to get an idea of the potentially resulting data volume:

A product consists of 3 components, each of which has 5 variations: 5³ = 125
with 4 components: 5⁴ = 625
with 5 components: 5⁵ = 3,125
with 6 components: 5⁶ = 15,625
...
With 6 components and 6 variations it would be: 46,656
... etc.
If one keeps in mind that this is only the volume of data developing for the variants of a single product and Thermokon offer several hundred devices, it becomes clear that it is impossible to individually maintain each product.
The solution: Product Configurator
This problem can only be solved with the use of a product configurator. In addition to the PIM system for storing the components and variations, this project also called the use of the Alterra PCM module for product configuration. Alterra PCM is used to define which components can be combined with each other to make up a final product. For potential customers, this means that the data pertaining to their products is generated ad hoc.

However, for catalog creation and representation on the Internet, it is necessary that customers get an impression of the product and its possible variants. To create these "product proposals" Alterra PCM offers a handy "templates" feature to generate sample products. With these templates, it is possible to select the components and attributes, for which a sample product is generated. Templates thus serve as a "limitation" of the product master.

Example: A product has 4 components with 6 variations each – and thus potentially 64 = 1,296 variants. Using a template it can be defined that only certain variations of the components are used to generate the products; in this example, the template defines a limit of 2 common variations per component – resulting in 16 variants that can be neatly displayed on a Web page or in a product catalog.
Multiple languages
With this still relatively large number of product variants, it is crucial to avoid redundancies in data maintenance if multiple languages are used. An attribute is therefore centrally entered and translated only once and then displayed in various points of the product range. In this way, the translation effort can be limited even with a large number of products and attributes.
Create manuals using text modules
In Alterra PIM, texts can be stored as text modules and used repeatedly. This function is very useful when it comes to quickly and flexibly create manuals. Thermokon can store texts, product images, icons and tables with technical data as text modules and combine them to create operating manuals for each device. The documents are generated either as PDF or MS Word files. The output in Word format has the advantage that documents can be given a final graphical fine-tuning after automatic creation.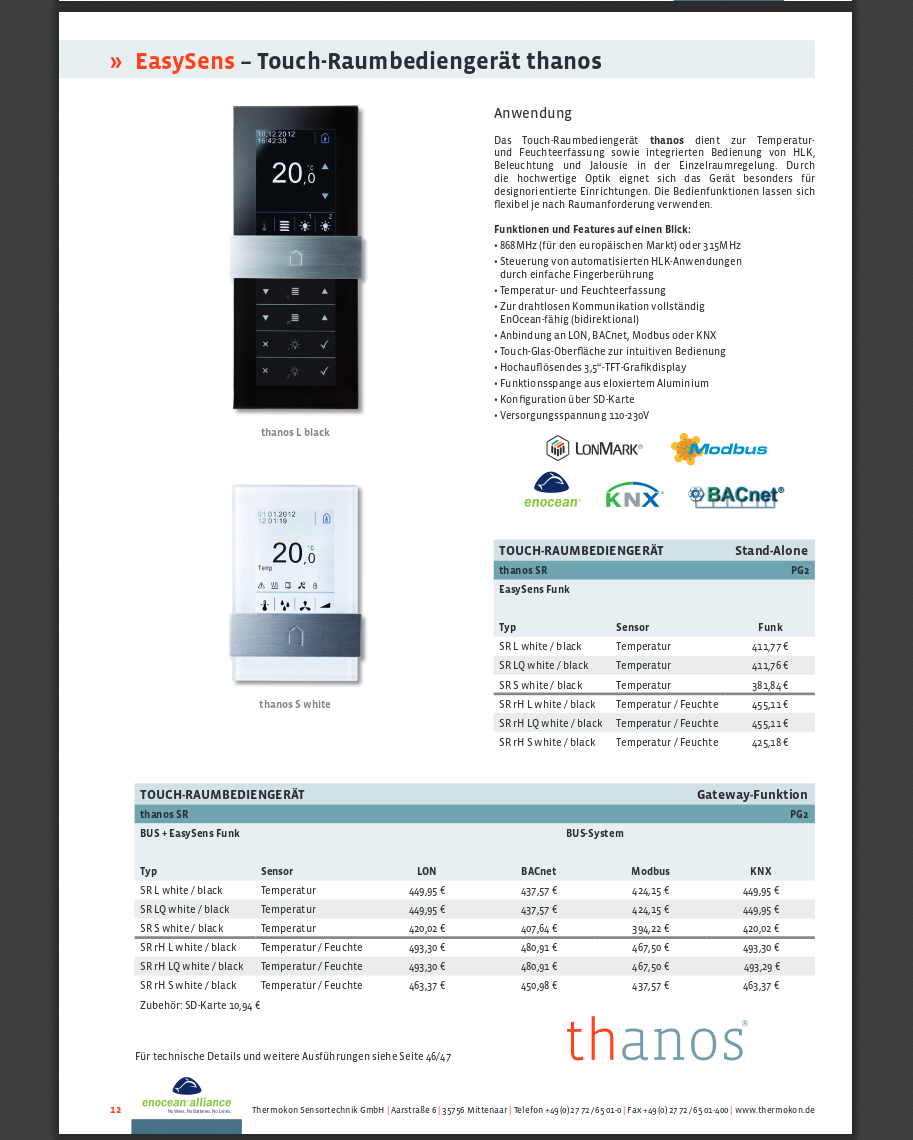 Printed catalog: PIM and InDesign
For the creation of printed catalogs, Adobe InDesign is the tool of choice. The combination of InDesign templates and product data is made via EasyCatalog. The catalog is generated automatically. The language can be changed at the click of a button.
Website: PIM and Typo3
The Thermokon website was developed, designed and implemented by the agency die.interaktiven. The customer benefited from the fact that die.interaktiven were able implement a flexible XML interface between Alterra PIM and Typo3.
The output of product data on the Thermokon website is thus running via the synchronization of PIM Alterra and Typo3. A special feature of this process is the ability to control the output of product features from the product classification per output channel. This means that Thermokon cannot only control via the PIM system which products appear on their website, but also which of the many product features should be displayed.
Conclusion
For Thermokon, the use of Alterra PIM resulted in operational optimization in many areas. Product management is substantially relieved by the fact that their work can be done completely free from redundancies. Redundantly maintained data no longer occur at Thermokon. The quality and quantity of the output media and the different language versions could be considerably increased.