Alterra DAM: Digital Media Assets under Control
With Sepia Alterra DAM (Digital Asset Management or Document Management) you get a set of functions for capturing, managing, searching and outputting media content. The included rights management feature controls access to the stored data.
Categorisation / Hierarchies
The management of files in Sepia Alterra DAM goes far beyond storing data in a static directory structure. A main component of Digital Asset Management provides for the categorization of data. The files are not only stored in directories, but can also be assigned to multiple categories. Files and categories can be equipped with more than one search attribute – such as metadata or keywords.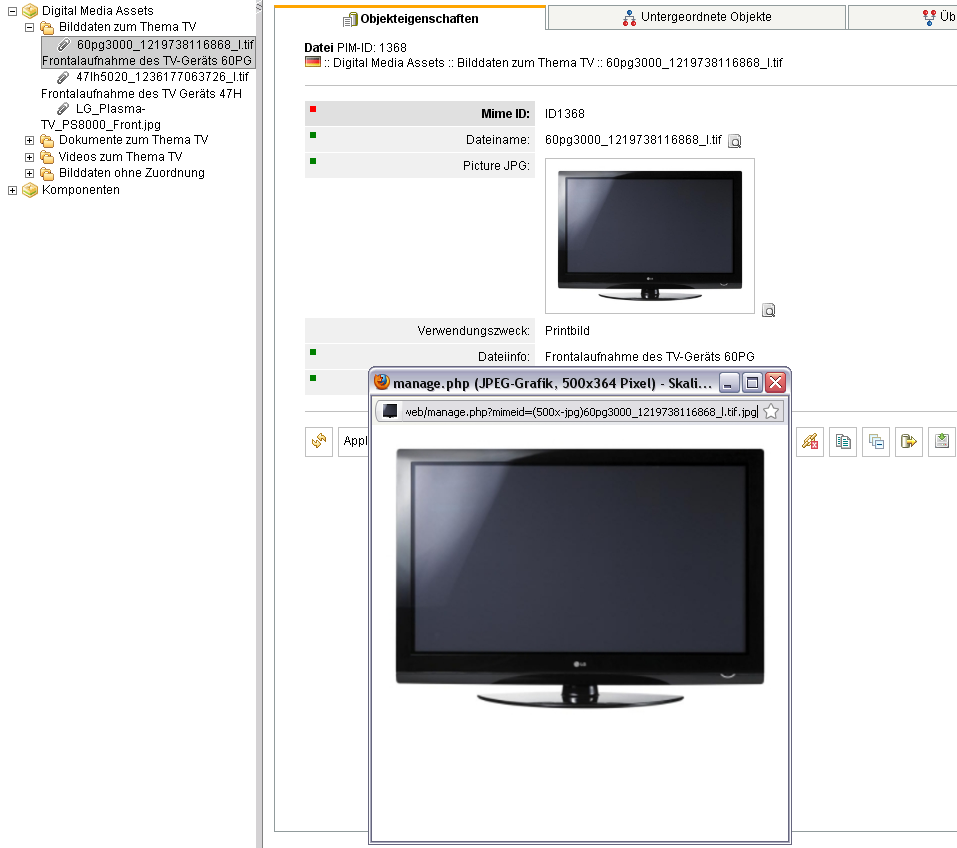 Managing digital assets via a category system
By means of this categorization the data is not only kept in a directory structure as it is known from ordinary file managers. Files can instead be found in one or more of the category trees at various locations.
Another important feature is that category trees can be generated automatically at run time as required – e.g., by media types. Data access is thus made possible in different ways – namely:


via the directory structure
via the intended use
by file/media type
via file contents
by category
Metadata
The management of metadata according to the IPTC NAA Standard (IPCT = International Press Telecommunications Council) for media files is another component of Sepia Alterra DAM. Metadata include, amongst others, keywords, descriptions, dates or the authors of the information. The metadata can be assigned to all files and can, if necessary, be read out. The metadata can be indexed and edited online directly via the user interface. To the extent that they correspond to the IPTC NAA Standard, existing metadata can be taken over from other systems.
Search and find information
In addition to the management and organisation of data, it is another task of the Digital Asset Management module to make data traceable and to facilitate the selection of files, for example, for media production. Via a direct search or the integrated advanced search function, even complex queries can be generated with ease: for this purpose, categories can be selected several times as a search criterion and also be combined. It is possible to select multiple categories at a time, but also to exclude individual categories.
As each file object may have attached any metadata and with the help of the existing search function data can be filtered by terms. In addition, the metadata as such can be also categorised.
Version control
With Alterra Document Management (Digital Asset Management) it is possible to save any file format in the internal database and in the file system. Files stored in the database files can be saved in several versions. Thus, the user may, if necessary, jump back to previous versions of a file.

Image data
Alterra allows saving, finding, modifying, linking, deleting and also automatically converting image data at runtime. In the ideal case, the user only has to maintain one high-resolution image file in the system, and the system then automatically creates the required output formats for different purposes in marketing and sales. During such an automatic conversion of image data, images can also be adapted automatically – popular features are:


blurring, sharpening, or hue adjustment.
2 versions of an image – the 2nd image is automatically computed.
Image processing – conversion process in detail:
Format conversion: convert an image from one format to another (e.g. TIFF to JPEG).
Effects: blur, sharpen, change hue.
Transformation: scale, rotate, crop, or cut.
Text: insert text into an image (e.g. watermark).
Animation: create a GIF animation from a series of images.
Image ID: record the format and the properties of the image in the image file.
Composite: overlap (one image over another).
Decoration: draw a frame around an image.
Transparency: make areas of an image transparent.
Drawing: add shapes or text to an image.
Office documents
Besides imagery, animations and movies, Alterra Document Management also allows managing Office documents. In addition to actions like saving, linking, versioning, or deleting files, the automatic conversion from one Office format to another is often required. Example: A company wants to internally store and manage documents in "Word" format, but also wants to make each of these documents externally (website, etc.) available in PDF format. In this case, the user saves only has to save the Word document in the system – conversion to PDF is done automatically. No manual intervention by the user is required.
Examples of conversions
Quellformate

Zielformate

Rich Text Format (.rtf)

Microsoft Word (.doc)

WordPerfect (.wpd)

OpenDocument Text (.odt)

Plain Text (.txt)

HTML (.html)

Portable Document Format (.pdf)

Rich Text Format (.rtf)

Microsoft Word (.doc)

Plain Text (.txt)
Tabellenkalkulation
Quellformate

Zielformate

Microsoft Excel (.xls)

Comma Separierte Werte (.csv)

OpenDocument Spreadsheet (.ods)

Tab Separierte Werte (.tsv)




Portable Document Format (.pdf)

Microsoft Excel (.xls)

Comma Separierte Werte (.csv)

Tab Separierte Werte (.tsv)

OpenDocument Spreadsheet (.ods)

HTML (.html)
Präsentationssoftware
Quellformate

Zielformate

Microsoft PowerPoint (.ppt)

OpenDocument Presentation (.odp)

Portable Document Format (.pdf)

Macromedia Flash (.swf)

OpenDocument Presentation (.odp)

Microsoft PowerPoint (.ppt)

HTML (.html)
Integration of additional programs
The Alterra plug-in technology allows to integrate different external utilities (e.g. OpenSource utilities) in the software. An example is the integration of online image processing tool. Such a tool will then allow modifying and saving images online, within the user interface of Alterra.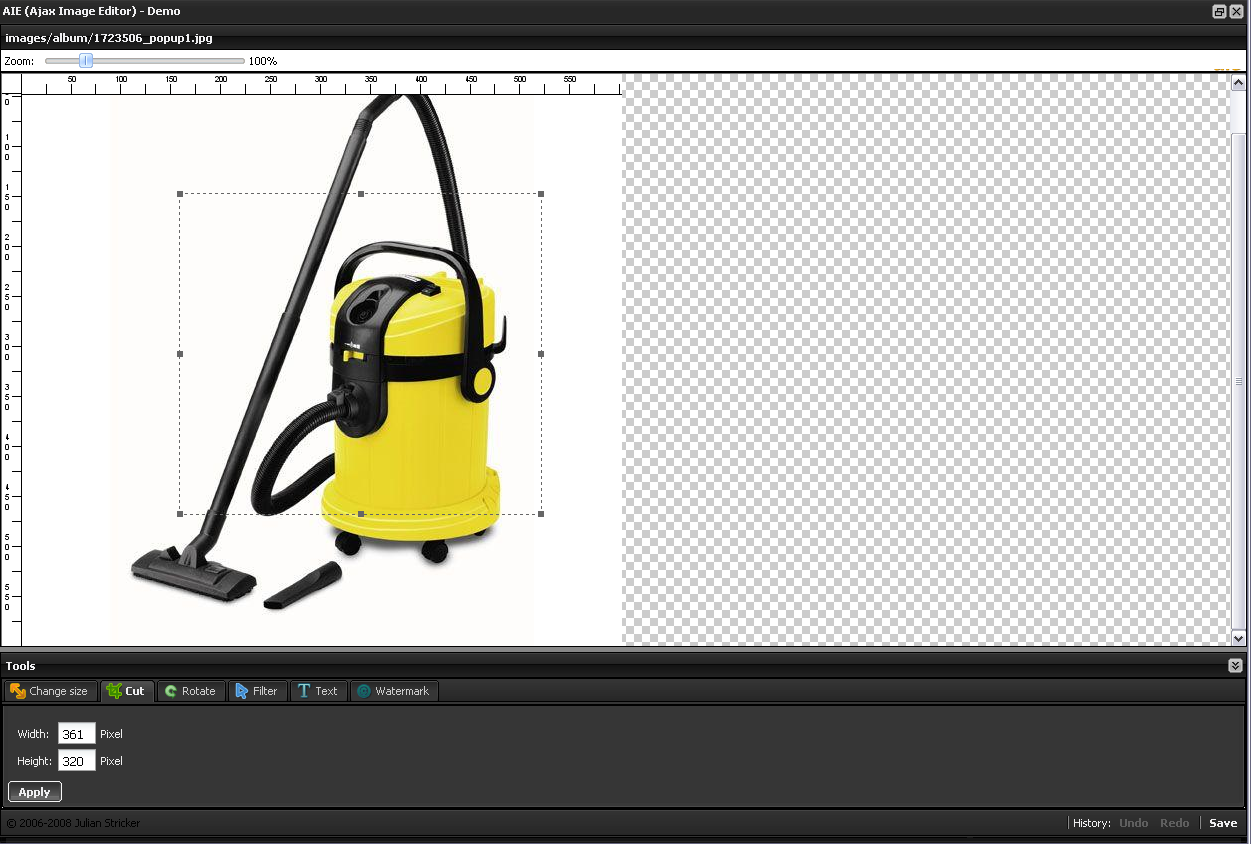 Online image processing/editing in Alterra via plug-in (shown above: AIE)


Conclusion
Digital Asset Management in Sepia Alterra offers options for the storage, selection, modification and organisation of files that would not be available in case of a standard file management in directories.