Software für BMEcat, Produktdaten Verwaltung und Publishing

SepiaBMEcatConverter-Setup.exe
Data maintainance of BMEcat data in Excel or OpenOffice / Libreoffice Calc
Export of the data as BMEcat.
Version 2.54: menues and captions also in

English.

Version 2.55 on: supports 64 bit versions of MS-Office.
Version 2.57: UDX integration
Version 2.58: BMEcat2005 compatible Catalogs
Version 2.58: 6 new types of product-references
NEW in version 2.59: Optimization of BMECat 2005 export.
Version 2.60: fork standard BMEcatConverter and Newtron Version (remove UDX from standard)
Version 2.63: + konfigurierbare Varianten ausgeben über VARIANTS / VARIANT / SUPPLIER_AID_SUPPLEMENT
BMECatConverter 2.63 Installer for Windows

SepiaBMEcatConverter-Setup.exe

BMEcat2CSV Online Converter
This new online Converter converts BMEcat 1.2 or BMEcat 2005 to .CSV (tab separated text). You can directly use the converted data in Excel or other office applications. The only system requirement is a modern webbrowser.
NEW: Work on your BMECat data in an online spreadsheet (like Excel).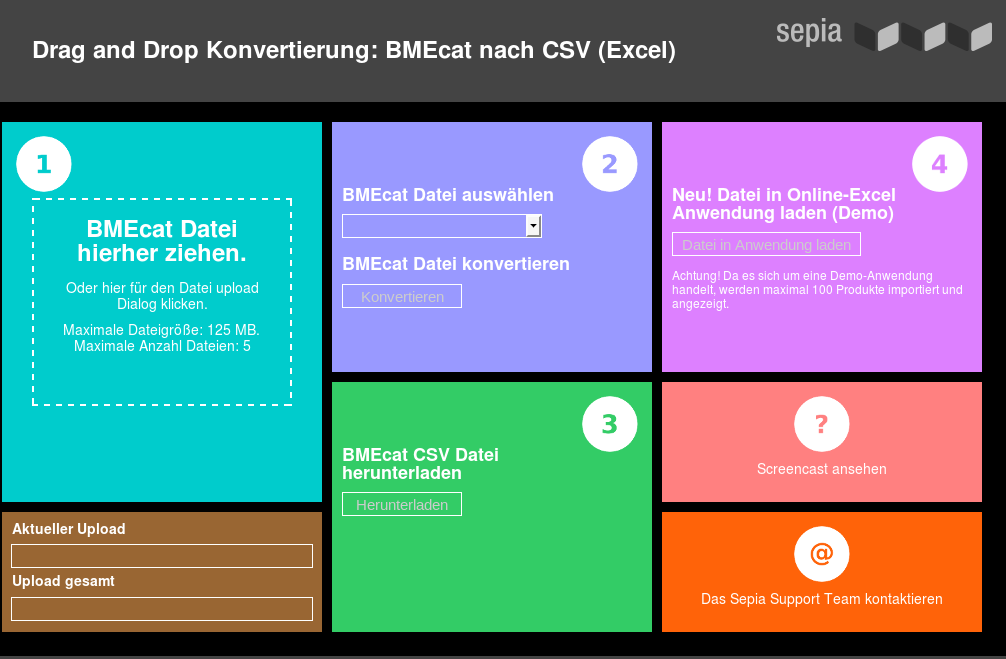 Here you can watch the screencast.
Database Software for BMEcat

BMEcatManager.zip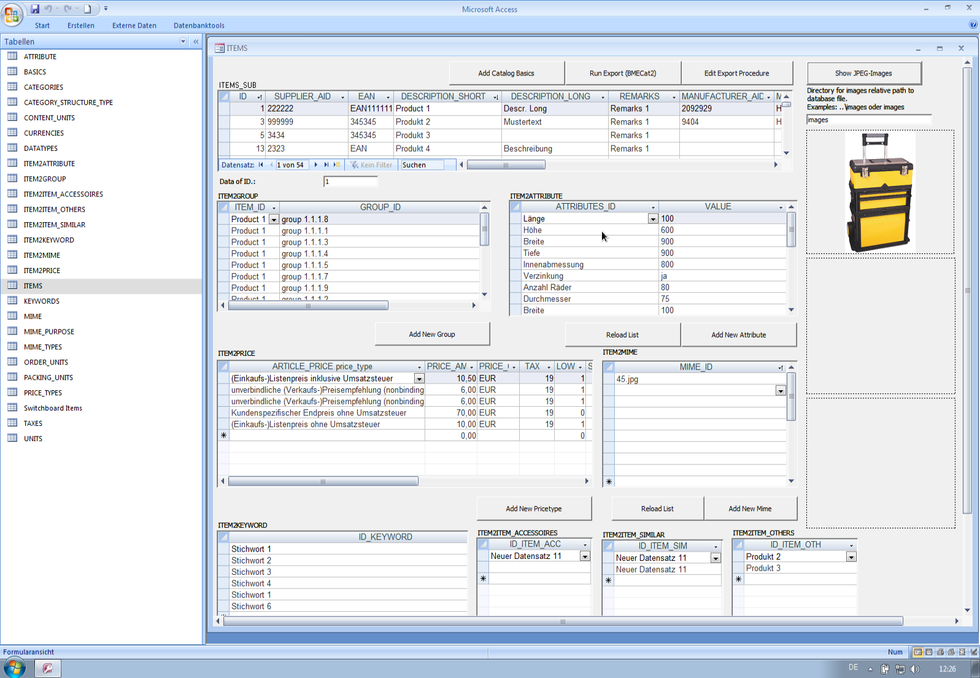 Funktionen
Datenpflege von BMECat fähigen Produktdaten in unter MS-Access
Ausgabe der Daten als XML (BMEcat 2005 / BMEcat 2.0)
Import von Daten aus anderen Office Anwendungen z.B. Excel.
Video zur Bedienung des BMECatManager: hier geht's zum Screencast.
Versionsinfos:
2018-07-05: Neu hinzugefügt Referenzen auf Produkte (PRODUCT_REFERENCE) vom Typ "accessory," "similar" und "others".
VNC Viewer

vncviewer.zip

tightvnc-jviewer.jar
Connectors and Imports
Database Publishing Software: EasyCatalog
Dokumentation zu Easycatalog
MS Windows
Apple Macintosh
Dokumentation zu Easycatalog

EasyCatalogHandbuchCC2015.pdf

EasyCatalog_Handbuch.pdf
Prince: PDF from HTML

prince-10r2-setup.exe

prince-10r2-macosx.tar.gz

prince_10r2-1_ubuntu14.04_amd64.deb

prince-10r2-1.centos7.x86_64.rpm

prince_10r2-1_debian8.0_amd64.deb

Generates printable high-end PDF files from HTML. The output formating is done by CSS. There is a free license for non-commercial use of Prince. This license adds a small logo to the first page of generated PDF files. For commercial use of Prince, you can purchase a special Sepia license for use with Alterra.
BMEcat2Shopware
Importiert BMEcat 2005 nach Shopware 6. Der Download enthält Programmversionen für Windows, Linux und Mac.
BMEcatConverter Mercateo Edition
Download:

BMEcatConverter-Mercateo.zip
Version: 2.55
State: stable
Date: 08.07.2015
BMEcatConverter Newtron Edition
Download:

SepiaBMEcatConverter_Newtron.exe
Version: 2.57
State: stable
Date: 31.05.2017
BMEcatConverter simple system Edition
Download:

BMECatConverter_Simplesystem.exe
Version: 2.60
State: stable
Date: 27.09.2019