3D Produktkonfigurator Software online at Team7

Companies like Team7 revolutionize their web presence with lifelike 3D configuration
The world-renowned manufacturer of natural wood design furniture Team7 introduces a 3D product configurator on its web platform. In the future, all of the company's configurable products will be included. The 3D product configurator is part of the Alterra::SalesPortal eCommerce system, which works seamlessly with Alterra::PIM (Product Information Mangement) and Alterra::DAM (Digital Asset Management). The leading master data and logic system is the ERP system working in the background, which is connected to the Alterra platform.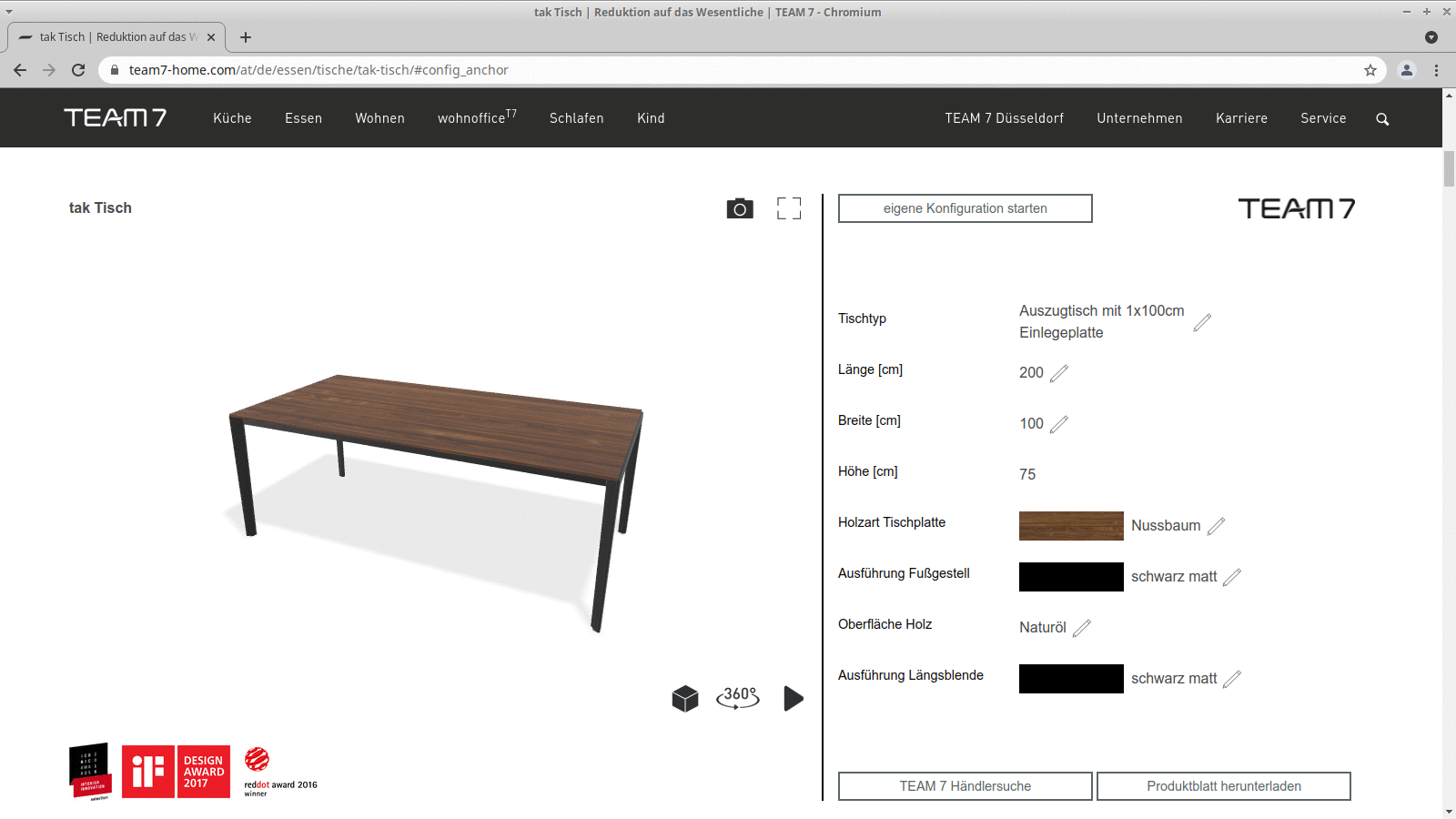 Team7: Natural wood furniture from Austria shipped to the whole world.
With more than 720 employees, Team7 generates sales of over €100 million and sells its solid wood design furniture in more than 30 countries through its own network of sales partners. Products are sold, on the one hand, via TEAM 7 studios and, on the other hand, via TEAM 7's own flagship stores in Vienna, Graz, Linz, Wels, Salzburg, Munich, Stuttgart, Düsseldorf, Hamburg, Münster, Berlin and Frankfurt. The export share is about 85%. The main export markets include Germany, Switzerland, Italy, France and the Benelux countries.
What types of furniture does Team7 manufacture?
Team7's product portfolio ranges from standardized series products and configurable products such as tables to products that require planning such as complete design kitchens. Team7 natural wood furniture is unique in quality and design. Precious European hardwood is processed with the utmost care into unique design furniture.
3D product configurator as a central component of sales digitization
The 3D product configurator is the new symbol for the digital interconnection of product management, marketing, sales, production and logistics for Team7's high-quality design furniture.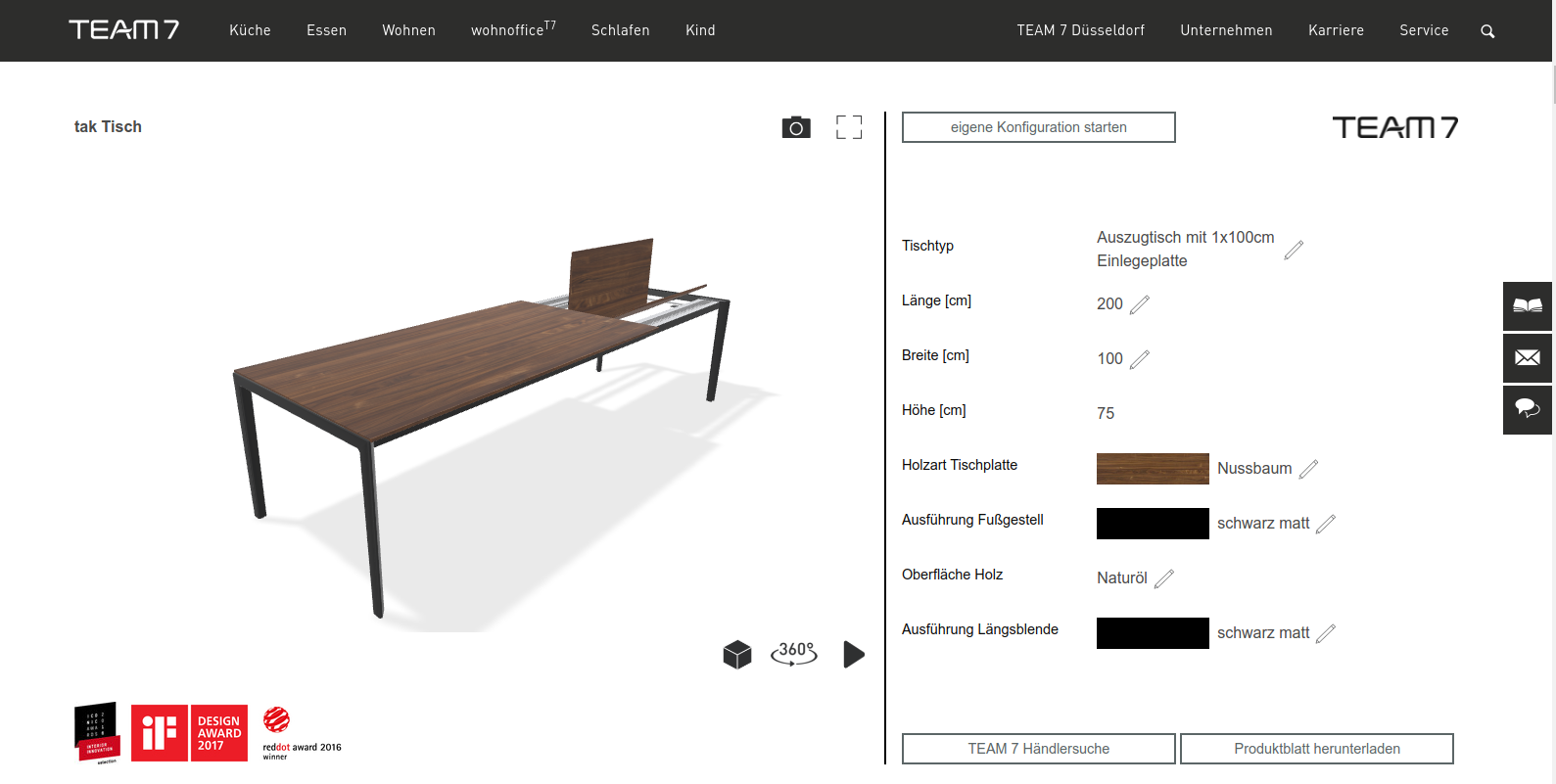 Customers can now see the options offered for a piece of furniture in real time in a super-realistic 3D animation. In addition to the possible configuration options, functions of the product – such as a refined pull-out mechanism of a table – can also be displayed in animated form.
The resulting product configuration is fully synchronized with the producible variants kept in the ERP system. This means that the configurator can only be used to display product variants that can actually be manufactured – this rules out confusion or queries with the manufacturer. And this again means that a manufacturing order can be initiated straight from the online configuration tool without any risk and without manual intervention.
Moreover, the configurator can not only be used in the context of the company's own website but also for CPQ (Configure Price Quote) transactions at the PoS – i.e. in one of the Team7 stores or in partner stores. In addition, the 3D product configurator can be integrated very easily into partner websites or partner webshops, thereby creating direct added value for the sales partners.
SalesPortal with combination of faceted search and 3D product configurator
A faceted search is a search principle that allows you to refine search results by filtering them according to certain criteria (facets). Facets can be categories or properties of an object. Via SalesPortal, standard product information and 3D configurations can be stored as finished combinations and output in a filtered manner. By using product data from Alterra::PIM and Alterra::VC (Variant Configurator), the customer can narrow down the product assortment via search filters and then finally customize the product found: Standard eCommerce meets Virtual Reality!
The mission: Configure high-quality design furniture realistically in 3D
To successfully implement such a project, it is first necessary to recognize that the software range currently used by many furniture manufacturers and retailers is in need of considerable modernization because it's usually quite outdated.
What is the current situation in the furniture trade? The sales staff relies so far, in addition to the real exhibits, on traditional product folders or – en vogue in Corona times, but mere activism: 3D walk-through exhibition spaces, that is, existing exhibitions photographed with a 3D camera.
Online 3D product configuration as a successor to outdated room planning software
In addition, the furniture trade relied heavily on "room planning" with outdated planning software. A particularly negative example is the Furnplan software, where digitally-savvy customers are put off rather than encouraged to buy with out-of-time poor graphics.
The commonly held opinion among sales staff is that the functions offered by PC room planning software are perfectly fine for the PoS. However, the consumer does not primarily want to see room planning with unrealistic graphics but, especially when doing research online, the most realistic configuration of the high-quality customized product that will be manufactured especially for them.
Because user behavior is, of course, increasingly shaped by eCommerce and online shopping experiences. A 3D object with selectable options must therefore be very close in presentation and function to the functional patterns known from other shop systems. The goal of a customer successfully using a configurator can only be achieved if the barrier to entry is very low. Cognitive habits may only be changed to a very small extent.
That's why only a super-realistic 3D product configurator seamlessly integrated into the webshop can be successful. This tool can then be relevant both for the pure Internet buyer and for the customer in the seeking consultation on-site in the store. And, to tie in with room planning: The result, i.e. the data of the fully configured product, can also be used for room planning, i.e. for combining with other pieces of furniture.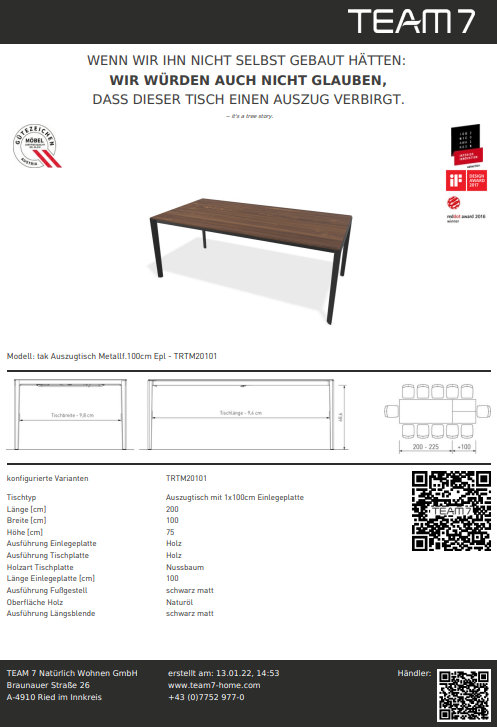 What are the technical requirements for 3D product configuration?
The particular challenge with a 3D product configurator is to make design furniture appear on the screen as appealing as if the customer would see it in the store. All facets of the product must be fully mapped in 3D – with all parameters considered: colors, materials, dimensions, technical details (fold-out mechanism, etc.). The processes must be seamlessly integrated, from configuration by the customer through order processing to production and delivery, with full integration of the enterprise resource planning (ERP) system.
To enable customers to pass on and use their information in analog form as well, digital and analog processes must be interlinked with the aid of data matrix codes. For example, a configured product on a quotation document can be called up directly via a barcode.
Which system components need to be interlinked?
In addition, data from several systems – in this case ERP, PIM, DAM and the configurator – must be merged on one configuration platform, the SalesPortal. Finally, the system is designed in such a way that the participation of partners is also possible, i.e. the configurator can be integrated into other sales contexts (i.e. the software tools of the partners).
The systems interacting with each other:
Enterprise resource planning (ERP) as the data-carrying system for configurable products with data exchange to PIM
Alterra::PIM for product data and Alterra::VC for configuration data
Alterra::SalesPortal can receive data from different systems and filter it via Elasticsearch (see figure below).
Alterra::SalesPortal::Configurator – the online 3D product configurator for customers
PDFReactor with Data Matrix codes for linking the analog world to the configurator.
Conclusion: Progress through the consistent use of virtual reality (VR) in sales
When it comes to digitization, progress is often confused with innovation. Innovation is not always an improvement for companies. For example, purchasing larger flat screens for employees would be considered an "innovation"; but real progress would include the ability to perform the appropriate functions on those screens.
Digitization means progress when existing structures are intelligently expanded. Of course, you also have to be prepared to give up cherished habits in order to strengthen your sales organization with new tools. By adopting Alterra's virtual reality software platform, you make your sales force more powerful.
Click here to go to the dedicated page of the 3D Product Configurator.
3D Locker Configurator based on Alterra::PCM