OpenSource software for your BMEcat
Create BMEcat catalogs from Excel – or vice versa. Quickly and easily manage your BMEcat.

OpenSource BMEcat converter and generator
With the Sepia BMEcatConverter it takes only little time to create your own BMEcat catalogs in the familiar MS Excel environment – it is the solution for converting Excel to BMEcat via OpenSource. You need only Microsoft Excel to edit your product data and generate BMEcat from here.
Download: BMEcatConverter (OpenSource)
Features
Full integration with MS Excel
Edit product data in MS Excel
Import data from many other formats to MS Excel
Create BMEcat 1.2 and BMECat 2 (BMECat 2005)
OpenSource (= customizable on your own)
Multilang: the GUI is in English and German
Screenshot: "Startscreen"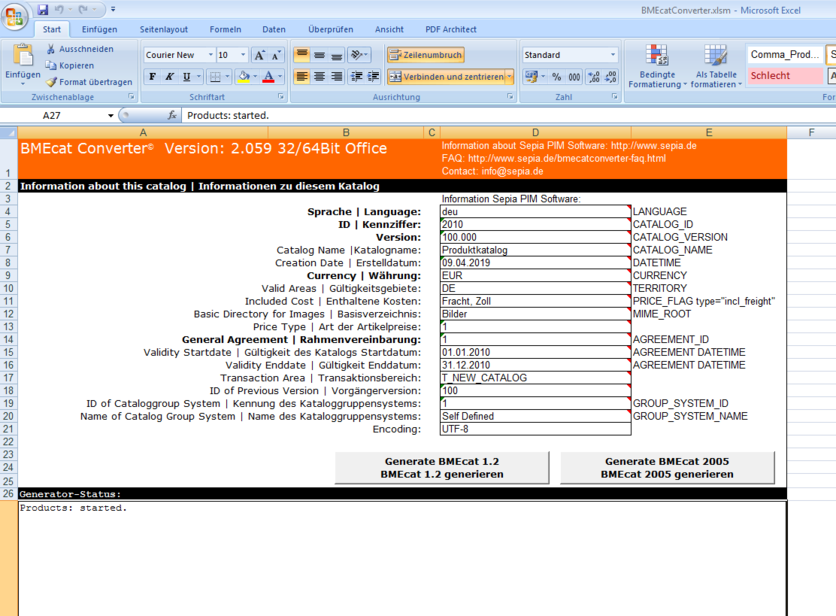 Screenshot: "Supplier"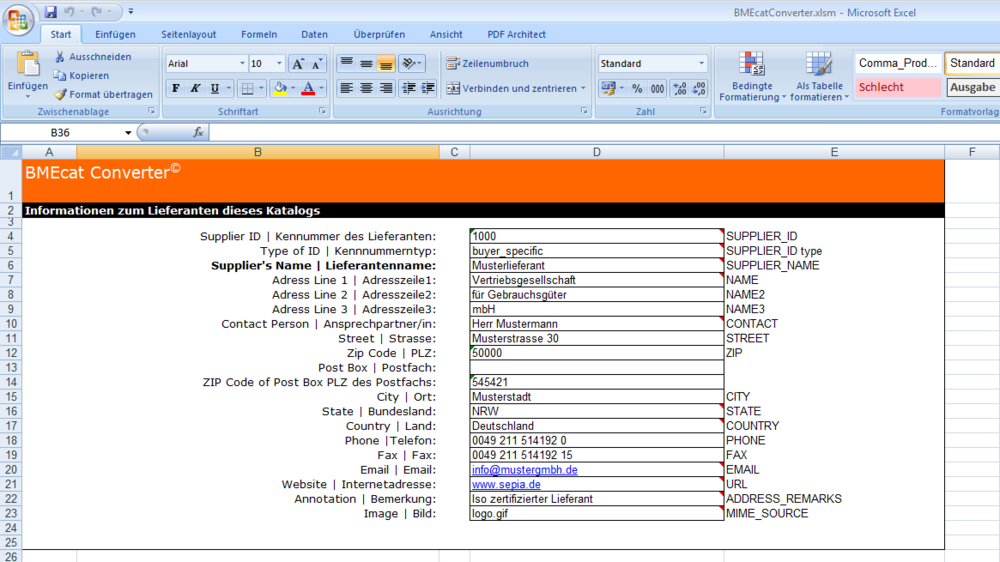 Screenshot: "Producttable"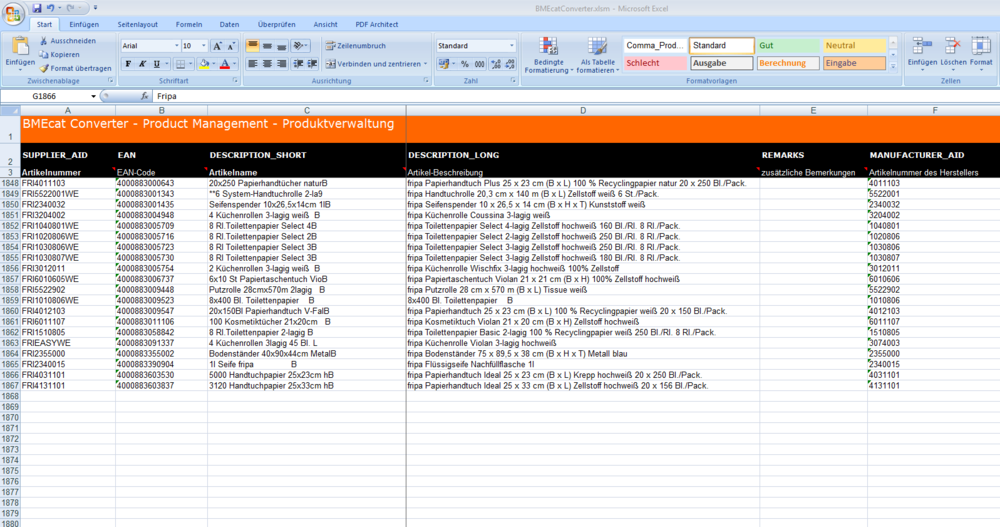 Frequently asked questions by users of BMEcatConverter:

Installation and Handling


Frequently Asked Questions
OpenSource BMEcatManager for Microsoft Access
Download: BMEcatManager for Access (OpenSource)
Infopage BMEcatManager
Online Converter: BMEcat2Excel / BMEcat2CSV
Convert your BMEcat to Excel or .CSV - pretty easy with only a few clicks:
Online-Converter: BMEcat2CSV - Online-Converter
OpenSource BMEcatViewer
To visually check your supplier catalogs BMEcatViewer is the tool of your choice.
Download: OpenSource BMEcatViewer
OpenSource BMEcat2Excel
We also offer the tool BMEcat2Excel that easily converts BMEcat catalogs into MS Excel files – all of this with just two mouse clicks.
Download: BMEcat2Excel (OpenSource)
Further information on BMEcat and other catalog formats:
On the website of the eBusiness Standardization Committee: www.bmecat.org
General information about the selection of a suitable electronic exchange format can be found in the brochure of Project PROZEUS (processes and standards) of the Federal Ministry for Economic Affairs and Energy: Download Info Brochure
BMEcat2Shopware
Importiert BMEcat 2005 nach Shopware 6. Der Download enthält Programmversionen für Windows, Linux und Mac.